A true reflection of Karan Johar's personality, his home in Mumbai is a mix of maximalist and voguish design.
Karan Johar, renowned for crafting larger-than-life movies with heartwarming narratives, extends his penchant for grandeur to his newly-designed bachelor pad. Executed by Gauri Khan, an AD100 designer and his close confidant, the residence exudes both luxury and expansiveness, yet a pervasive sense of warmth and snugness envelops visitors. The abode effortlessly balances vintage and modern elements, seamlessly weaving together maximal and minimal patterns. AD India guides you through the design principles that animate this vibrant home.
A Biophilic Approach To Design
Immersed in greenery, the swanky and "subtly over the top" residence features colossal French windows that facilitate an abundant flow of natural light and ventilation. Gauri Khan has meticulously ensured that every nook and corner of the house maintains a connection with nature, significantly minimizing the need for artificial air and sunshine. Nestled in the heart of Mumbai, this airy Bandra home, surrounded by leafy palms, is a resounding success!
Play Of Patterns And Textures
Karan Johar's bachelor pad is a sophisticated embodiment of bold patterns seamlessly blended with diverse textures. The residence exhibits a seamless cohesion, from the striking patterned flooring in the powder room to the earthy herringbone flooring in the walk-in wardrobe. Notably, Gauri Khan has infused the home with intricate textures and elements, including fluting, cornices, and delicate French mouldings.
Adding a Golden Touch
Karan Johar, known for his Midas touch, has effortlessly brought touches of gold to many aspects of his expansive pad. Notably, his custom-made bed by Gauri Khan Designs stands as a sophisticated furniture piece highlighted with sleek brass elements. The opulent theme of golden brass accents resonates throughout the house, manifesting in various design elements, such as the brass-finished and bespoke vintage coffee table adorning the cosy fireplace nook.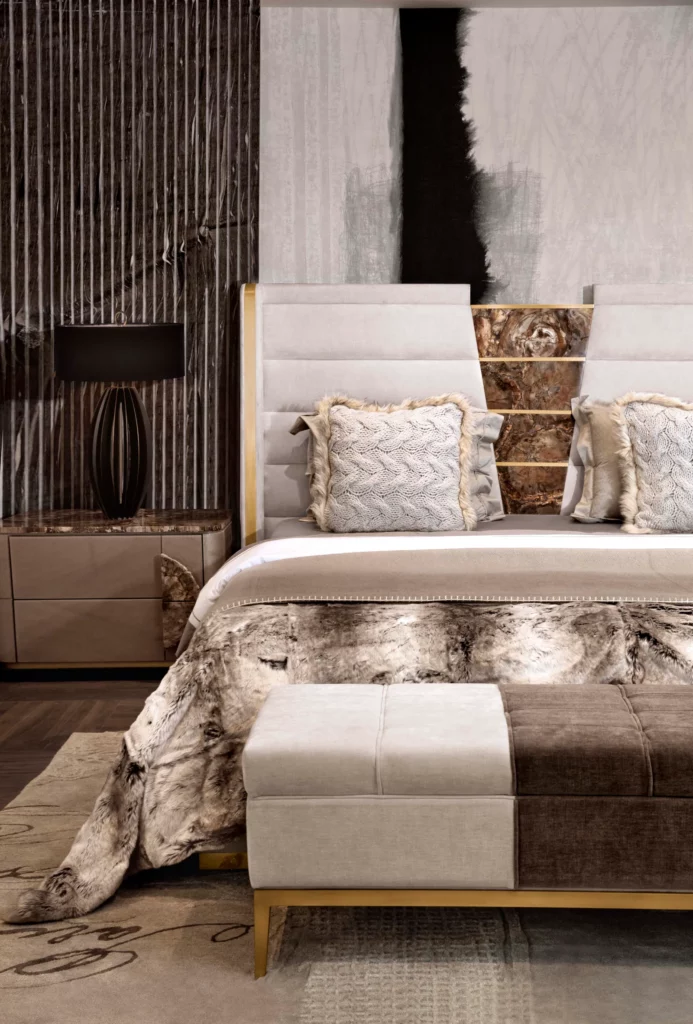 Letting Art Take Centre Stage
Gauri Khan did not shy away from accessorising the house. Each space is augmented with art in different forms— be it the large-scale mosaic artwork that dominates the living and dining area or minuscule paintings arranged on easels with a spotlight. Most of the exquisite artwork of the house has been picked up from London's art galleries by the duo themselves, some were sourced from Italy and England, but the majority of the pieces were custom-made by Gauri Khan Designs.
Balancing Maximalism With Subtlety
The residence is a harmonious blend of over-the-top and bold features seamlessly intertwined with subtle and neutral tones. The predominant color scheme revolves around light greys and browns, accentuated by golden elements, striking patterns, and dazzling accessories. Furthermore, the lighting fixtures strike a perfect balance between maximal and minimal designs, ranging from the round chandelier in the living room to the distinctive turbine light fixture in the powder room and the simple wall sconces throughout the house.
Personalised Nooks
In alignment with Karan Johar's sentiment, "It's all about loving your family," his house is enriched with endearing family pictures, personally curated items, and an array of books. The modest showcase in his bedroom, accentuated by a sleek mirror accessory, proudly displays items that mirror his distinctive personality.