These coffee shops in India serve scrumptious dishes and delightful brews in a charming setting.
Merely serving excellent coffee no longer suffices. In the age of social media, Indian coffee shops have embraced the need for distinctive interiors to draw in patrons. Among them are coffee shops featuring captivating designs that whisk visitors away to exotic global locales and cafes nestled within historic structures. Here are the top 10 coffee shops in India known for their picturesque aesthetics.
Machan, Taj Mahal Hotel, New Delhi
The reimagined Machan boasts awe-inspiring interiors. Its walls are adorned with custom-designed coverings that beautifully recreate jungle scenes, showcasing the grandeur of the Indian tiger and the beauty of nature. The captivating cane tree canopies, an array of terracotta animal masks crafted by local artists, modern lanterns, and stylish banquette seating provide the perfect backdrop for an exceptional dining experience. What's even more remarkable is that a majority of the materials used at Machan are locally sourced and crafted by artists from nearby states. Don't miss out on their invigorating beverages and snacks, inspired by the rich heritage of the Indian forests – they are sure to delight.
KMC Mumbai
Located within the historic Kitaab Mahal, KMC* is a curated space that celebrates a culture without boundaries. The cafe's interiors seamlessly blend with the colonial architecture, creating an environment that bridges the past and present, offering both a sense of familiarity and an air of innovation. Every aspect of KMC* has been carefully selected to provide a comforting embrace, from its culinary offerings to its ambiance. The menu features standout items such as the Americano, Cappuccino, Vietnamese Coffee, and Cortado, along with unique dishes like Smoked Pork Tacos, Buff Sando, and Quiche x Cheesecake—a savory twist on the classic cheesecake.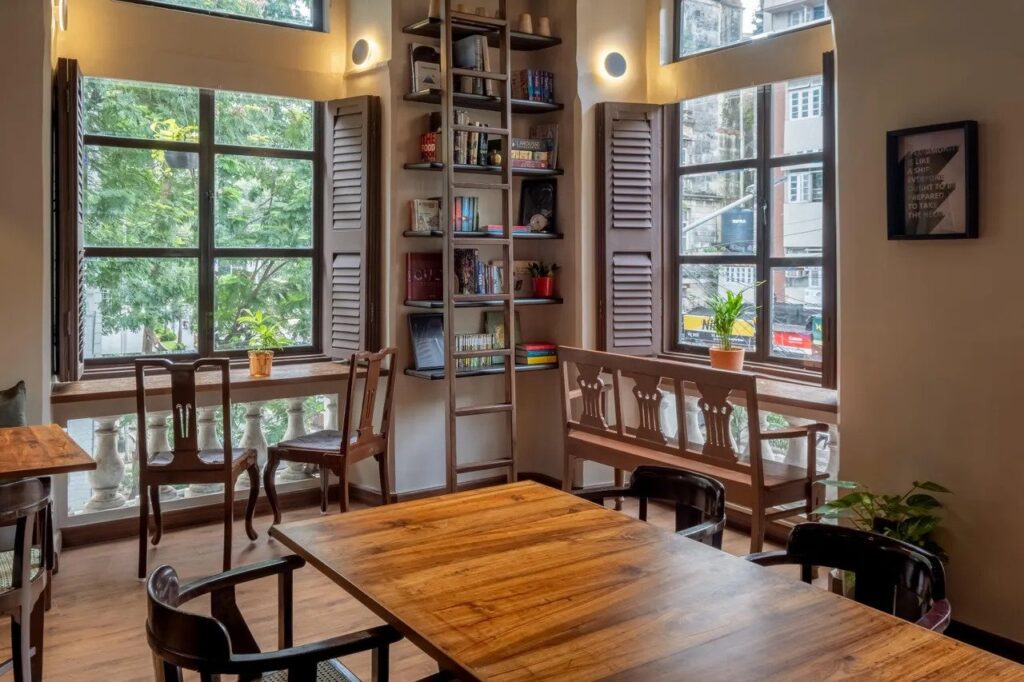 MAAI, Goa
Tucked away within a charming 123-year-old Portuguese villa, MAAI is a captivating dining and coffee haven. Drawing inspiration from trendy summer destinations worldwide, its interiors exude an inviting ambiance. MAAI provides the choice of alfresco seating beneath the starry skies or within the historic mansion that houses it. The welcoming space is adorned with gentle yellow lighting, adorned walls displaying black and white photographs of Goa, and rustic decorative elements. MAAI's culinary and beverage menu pays homage to Goa's rich gastronomic legacy. Its extensive offerings encompass traditional Goan and Portuguese-inspired delicacies, complemented by coffee brewed from in-house roasted beans.
Elgin Cafe, Amritsar
Conceived by the architectural and interior design firm Renesa, Elgin Cafe seamlessly transitions from a charming bistro during the day to a sophisticated restaurant and wine bar at night. Its interior design evokes the sensation of dining in a natural setting, adorned with the luxurious emerald green granite sourced from Udaipur. The eatery showcases green granite wall paneling and tabletops, complemented by opulent gold furnishings, tan leather seating, cozy wicker chairs, and an abundance of lush plants. Elgin Cafe's diverse range of multi-cuisine small plates and expertly crafted cocktails are certainly a culinary delight worth savoring.
The Bhawanipur House, Kolkata
Exuding the charm of colonial architecture, The Bhawanipur House is a delightful journey back in time. The proprietors of this bistro aspire to encourage patrons to unwind and spend leisurely hours in their establishment. The outdoor seating area is graced by the presence of a majestic mango tree that gracefully presides over the premises, alongside a tranquil lotus pond. The cafe is renowned for its delectable array of multi-cuisine dishes and steaming pots of coffee and tea. Among the standout choices on their menu are the Chicken Tetrazzini, Moussaka, Spaghetti Bolognese, Lahme, Egg Quattro Formaggi, Tuscan Potato, and the Mediterranean Buddha Bowl, all of which are personal favorites.
Donna Deli, Mumbai
Crafted by the skilled interior designer Tejal Mathur, Donna Deli transports visitors to the ambiance of Roman bistros. Nestled in the vibrant heart of Bandra, this stylish eatery and coffee haven boasts an inviting alfresco section adorned with captivating decorative elements, lush planters, and luxurious furnishings. Inside, the seating area adopts a sophisticated monochromatic color scheme, accentuated by exquisite chandeliers and captivating artworks. A must-try from their menu is the Iced Latte, a delightful fusion of chilled milk and robust, aromatic coffee, sure to please the palate.
Justbe Resto Café, Bangalore
Founded by nutritionist and health coach Nidhi Nahata, Justbe Resto Café is a beloved plant-based dining destination. Housed within a historic 90-year-old heritage building, this pet-friendly café offers distinct sections including the inviting Living Room, the intimate Private Dining Room, the tranquil Courtyard, and the captivating Studio. The essence of the eatery is to create an ambiance akin to a warm gathering at a close friend's home. The Studio, in particular, stands out as an Instagram-worthy space, adorned with captivating blue-hued bookshelves, expansive floor-to-ceiling glass windows, and quirky furnishings. For a delightful dining experience, we recommend indulging in Justbe Resto Café's offerings, including whole wheat pizzas, superfood bowls, open sandwiches, nourishing soups, refreshing cold-pressed juices, and delectable smoothies.
Milee Droog Café & Bistro, Kolkata
Nestled in the charming lanes of south Kolkata, Milee Droog Café & Bistro spans three inviting floors. The ground floor caters to coffee enthusiasts with its extensive menu of java delights. Ascend to the first floor, where you'll find a mocktail bar, a delightful outdoor balcony, and an elegant glass-enclosed private dining area. The café embraces a blend of art deco architecture and contemporary interiors, featuring eye-catching checkerboard floors, delicate white floral motifs, and a soothing pastel color scheme. Milee Droog Coffee & Bistro is renowned for its innovative global cuisine offerings. Popular selections include the Vietnamese Latte, Almond Toffee Milk Latte, Orange Cold Brew, Classic Hot Chocolate, Matcha Frappe, Tuscan Grilled Polenta, Greek-style Courgette Lasagna, Chettinad Chicken Keema, and the beloved Bengal's Bhappa Bhetki.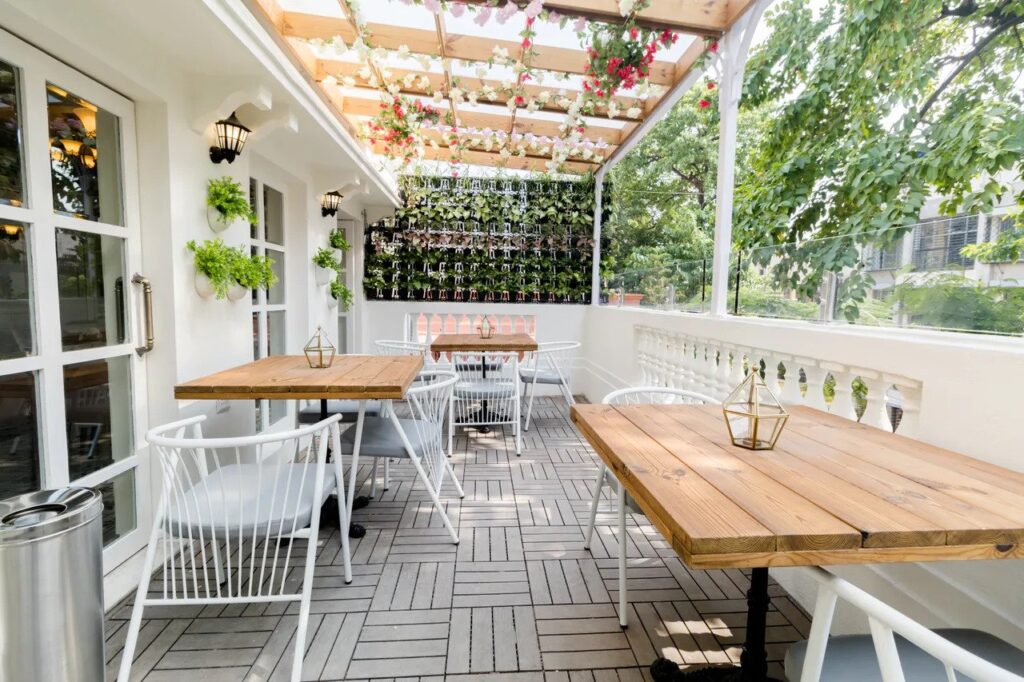 Banyan Tree Cafe, Mumbai
Nestled in the heart of south Mumbai, Banyan Tree Cafe pays homage to the city's timeless colonial architecture. It finds its home within a 140-year-old former ice factory, now transformed into the avant-garde art space known as IFBE. As guests step into the cafe, they are welcomed by generously-sized windows, overhead skylights, an industrial-inspired design aesthetic, and a picturesque view of a magnificent banyan tree. Banyan Tree Cafe's culinary offerings present a harmonious blend of health-conscious dishes and comforting classics, complemented by coffee sourced from Dope Coffee. Be sure to savor their delightful selection of sandwiches, wraps, and salads crafted with the freshest locally-sourced ingredients.
Glenary's, Darjeeling
A cherished dining destination, Glenary's captures the hearts of both locals and tourists with its inviting atmosphere, nostalgic interiors, delectable continental cuisine, live musical performances, and panoramic vistas of the majestic Himalayas and the Kanchenjunga mountain range. Established in 1935, the cafe exudes the warmth of a cozy mountain cabin. Glenary's is renowned for its signature continental dishes, including Shepherd's Pie, Lasagna, Roast Chicken, Vegetable Cutlet, Baked Cheese Macaroni, Fish Au Gratin, and Potato Salad. And, of course, be sure not to overlook the cafe's exceptional coffee and freshly baked desserts!